Capitol Boiler Works, Inc.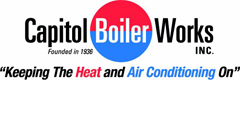 Capitol Boiler Works, Inc.
Dwight Sheppard (President)
7921 Woodruff Ct
Springfield, VA 22151
United States

Company Description:
Capitol Boiler Works, Inc. has served the greater Washington DC Metropolitan market since 1936 and the Richmond, VA market since 2011. We are available to handle a wide range of HVAC, plumbing, mechanical, electrical, and heating requirements. Whether it is a custom design-build project, emergency or routine repairs, a planned equipment retrofit, or equipment rebuild that you need, we will respond promptly and with the right technician or sales engineer for the job.


Capitol Boiler Works offers a variety of mechanical services. First we offer true 24/7/365 emergency service in Burner Controls, Welding, Plumbing, HVAC, Pumps, and Electrical. All emergency calls go to a management representative of Capitol Boiler Works, not an answering service. We offer a fleet of portable boiler and domestic hot water equipment based at our facility in Springfield VA. We have a fabrication facility specializing in tube and shell heat exchanger custom fabrication on an as needed and emergency basis.
Our main service categories are:
Electrical
Pumps
Air Conditioning
Mechanical Insulation
Heat Exchangers
Refractory
Plumbing
Boilers
Portable Boiler Units
Fabrication
Welding
Burners
Service Contracts
Classroom Training
Products/Services:
Electrical Service
Heating, Ventilating, Air Conditioning
Plumbing
Search http://www.capitolboilerworks.com
Are you looking for more
customized information on a
product or service? Enter your
specific Request for Information,
and get private, personalized
responses delivered to your inbox.
Click Here to Get Started