Construction Systems Group, Inc.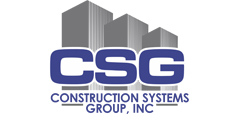 Construction Systems Group, Inc.
Tom Curley and Wayne Hosking
1451 Dolley Madison Blvd Ste 300
Mc Lean, VA 22101
United States

Company Description:
Construction Systems Group, Inc. (CSG) is a specialty building envelope and structural restoration engineering firm. Whether urban or suburban, a large or a small project, we assist Managers, Boards and Owners in restoring, maintaining, preserving and enhancing the real estate assets under their care.
With offices in Metropolitan Washington, DC and Metropolitan Baltimore, CSG is a regional, Mid-Atlantic firm serving Condominiums, HOAs and Cooperatives.
Visit our website at www.csgengineer.com
Services Provided
Structural Engineering
Roofing Evaluations, Consulting & Design
Building Enclosure Testing
Exterior Condition Studies
Restoration Design & Competitive Bidding
Construction Phase Engineering
Condensation Evaluations
Forensic Investigations
Design Peer Review
Litigation Support & Expert Witness Services
Preventive Maintenance Programs
Building Elements
Parking Structures
Pavement – Asphalt, Concrete, Stairways
Balconies, Elevated Walkways, Bridges
Facades – Stone, Masonry, Siding, Glass
Windows, Doors, Skylights
Roofing – Flat, Sloped, Green, Features
Plaza Decks, Terraces
Retaining Walls
Water Features
Waterproofing Systems
Air leakage, Drafts, Insulation
Products/Services:
Engineers
Concrete/Concrete Repair
Consulting
Roofing
Waterproofing
Search http://www.csgengineer.com
Are you looking for more
customized information on a
product or service? Enter your
specific Request for Information,
and get private, personalized
responses delivered to your inbox.
Click Here to Get Started