Williams Professional Painting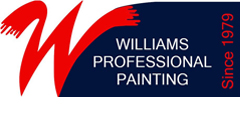 Williams Professional Painting
Rick Williams (Vice President, Director of Commercial Operations)
110 S Floyd Street
Alexandria, VA 22304
United States

Company Description:
Williams Professional Painting is a fully licensed, bonded, and insured company which has been operating in the Washington, DC metropolitan area since 1979, specializing in interior and exterior custom painting and carpentry.

Our crews are comprised of experienced craftsmen who take pride in their work, and are screened using criminal background checks, DMV checks, and work authorization verification. You will find that all of our employees are committed to customer satisfaction.
Commercial Services
When considering a painting company, commercial clients should expect a high level of coordination, flexibility, and reliability along with exceptional quality of work, budget consciousness, and trustworthiness. Williams Professional Painting has got you covered.

From coordinating with security to performing the work after hours, we guarantee a worry-free process from initial quote through final clean up. Whether you need office furniture and equipment moved or you have sensitive information in your office space, our professional and fully licensed and insured crews will deliver a product that meets budget, timeline and your highest expectations for quality and professionalism.

Williams Professional Painting has successfully completed projects including law firms, associations, government offices, and more. Some of our past clients include: The Art Institute of Washington, Ford & Harrison, The National Beer Wholesalers Association, Smith & Barney, The Motley Fool, The United States Air Force Memorial, Verizon, Demaines Funeral Home, The Verizon Center, Cahill, Gordon, & Rendell, The Washington Speakers Bureau, The Virginia Theological Seminary, and many, many more.
Williams Professional Painting has extensive experience in interior and exterior painting, and our clients can be assured that all of our jobs are approached with the goal of 100% customer satisfaction in mind. Our commercial clients will attest to our professionalism and quality work, as well as our crew's ability to accomplish the work with a minimum of disruption to their day to day operation.

We offer a variety of services to keep your property looking beautiful:
• Interior Painting and Carpentry
• Exterior Painting and Carpentry
• Drywall Repair
• Cleaning Of Aluminum and Vinyl Siding
• Wallpaper Removal


Products/Services:
General Contractor
Painting Services and Retailers
Search http://www.williamsprofessionalpainting.com
Are you looking for more
customized information on a
product or service? Enter your
specific Request for Information,
and get private, personalized
responses delivered to your inbox.
Click Here to Get Started