PM+ Reserves, LLC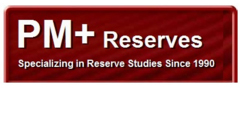 PM+ Reserves, LLC
Mario "Ben" Ginnetti RS, PRA, P.E.
4388 Poplar Tree Ct
Chantilly, VA 20151-2523
United States

Company Description:
A PM+ Study is designed around the following concerns:
Realistic cost estimates and useful lives.
Each owner needs to pay their fair share for the time they own.
Underfunded reserves results in a "special assessment" or "loan." "Special assessments" and "loans" only penalize current owners.
Deferred work leads to additional deterioration and greater costs.
Today's home buyer is more sophisticated - they inquire about reserve funding. If the reserve is adequate, it improves the owners' chance of selling.
Some government mortgage agencies require a study before backing a loan.
Some State statutes mandate reserve studies.
Credentials:
Registered Professional Engineer (P.E.) DC, Maryland and Virginia
CAI Reserve Specialist (RS)
APRA Professional Reserve Analyst (PRA)
Ready to get started? Request A Proposal Today!
| | | |
| --- | --- | --- |
| Products/Services: | | Reserve Studies |
Search http://www.pmplusreserves.com
Are you looking for more
customized information on a
product or service? Enter your
specific Request for Information,
and get private, personalized
responses delivered to your inbox.
Click Here to Get Started