MasterWorks Painting & Remodeling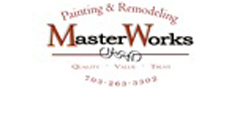 MasterWorks Painting & Remodeling
25050 Riding Plaza
South Riding, VA 20152
United States

Company Description:
Masterworks is an established General Contractor and Specialty Contractor serving the Greater Washington, D.C. and Baltimore Metropolitan areas. Our firm also performs commercial work on client assets beyond these marketplaces. The Masterworks team is led by several key individuals, each with decades of experience and thousands of successfully completed projects to their credit. Masterworks performs a range of services for its commercial and residential clients. The company's Commercial Division specializes in painting and specialty coatings application; caulking; flashing; tuckpointing; waterproofing; masonry restoration; balcony and railing restoration; parking structure rehabilitation; concrete work; paving; EIFS repair; carpentry; drywall; window replacement and remodeling General Contracts. Our well respected and dedicated Residential Division provides all these services along with kitchen and bath remodels, basement finishing and additions for homeowners.
Masterworks operates with three guiding principles. First, we pride ourselves in delivering what is promised. In fact, it is the hallmark principle of our business. The next is a promise to treat each client, vendor, supplier and team member professionally and respectfully. Finally, our business is conducted with clients, vendors and team members transparently and honestly. These straightforward mandates keep Masterworks grounded and focused, so we can achieve our goals and serve our clients professionally and honorably.
Masterworks believes defining what will be performed, what materials will be used, and by what means the work will be executed creates a clear vision of the process and minimizes unrealized client expectations. In order to deliver on these promises, Masterworks has assembled a team of great tradesman and trusted vendor partners. Masterworks' technicians reliably and expertly perform the work. Our vendor partners possess the expertise Masterworks and our clients demand. These professionals work with the Masterwork team to help develop the most appropriate scopes of work and cost-effective material specifications for our clients' projects.
Masterworks also maintains strong working relationships with design professionals. These include interior designers, architects and professional engineers. Regardless of the scope and nature of your work, we can provide the professional services you require to get it done.
If you want a Contractor that is sensitive to its clients' needs; considers the clients circumstances and goals; will offer honest advice with supporting facts, will tell you what you don't want to hear so you are fully informed and protected; and is dedicated to delivering what your project requires, nothing more and nothing less, then you owe it to yourself to contact Masterworks for your contracting needs. You will find your experience to be rewarding, satisfying, pleasant and professional.
Products/Services:
Asphalt Paving/Maintenance/Repair
Concrete/Concrete Repair
General Contractor
Masonry
Painting Services and Retailers
Restoration Services
Waterproofing
Search https://www.masterworksgc.net/
Are you looking for more
customized information on a
product or service? Enter your
specific Request for Information,
and get private, personalized
responses delivered to your inbox.
Click Here to Get Started